Articles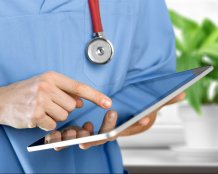 Researchers at the University of Exeter Medical School have been shortlisted for a Guardian award
Diabetes Research shortlisted for The Guardian 'Research Impact Award'
Research to improve diagnosis and treatment of diabetes by The University of Exeter Medical School has been shortlisted for The Guardian Research Impact Award.
The team has developed tests for C-peptide, which is produced at the same time and in the same quantities as the insulin that regulates our blood sugar. By measuring C-peptide levels, doctors can tell how much insulin a person is producing themselves, even if they are taking insulin injections as treatment.
A new urine test for C-peptide was a result of the research, and has also shown that a simple blood test when a person is seen in clinic can also accurately measure C-peptide, replacing previous methods which were expensive and time-consuming. These tests are now available in nearly every hospital in the UK, and cost as little as £10.
The Exeter team demonstrated how urine and blood C-peptide can be used to accurately identify what type of diabetes a person has, and help determine what treatment will work for them. This ensures patients are getting the right treatment, education and follow-up care.
This test is now widely used across the NHS, and has identified many people who could benefit by changing treatment, including some who have been able to stop insulin injection.
For this work, researchers at The University of Exeter Medical School is one of just three universities to be shortlisted for 'Research Impact Award'.
This test has come thanks to work and collaboration between Exeter including Dr Timothy McDonald, Dr Angus Jones, Dr Richard Oram, Professor Andrew Hattersley, Dr Beverley Shields and Dr Suzy Hope.
Dr McDonald said: "We are absolutely delighted that we have been shortlisted for this award. This is a testament to all of the hard work that we have all put in and it means so much to have a direct impact on patient care."
Dr Jones said: "This research has meant we can now accurately and inexpensively diagnose what type of diabetes a person has, this is crucial to making sure they are receiving the best treatment."
The University of Exeter Medical School go head to head with The University of Manchester and Heriot-Watt University for the award. The winner will be announced at the prestigious awards ceremony 10 April at London Symphony Orchestra St Luke's.
Date: 28 March 2019