Articles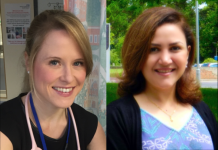 Dr Pamela Bowman (Left) and Dr Hanieh Yaghootkar (Right)
Hat-trick of Success at the Diabetes UK Professional Conference
Three academics from the University of Exeter Medical School were recognised for research excellence at the Diabetes UK Professional Conference (DUKPC).
Both Dr Pamela Bowman and Dr Hanieh Yaghootkar picked up awards on Friday 8th March.

Dr Yaghootkar was jointly awarded the 'Young Diabetologist and Endocrinologist Forum Trainee Award' whilst Dr Bowman received the 'Diabetes UK Young Investigator Award'.
Dr Yaghootkar said: "I am delighted to win this award. This achievement would not have been possible without help and collaboration of the Genetics of Diabetes team in Exeter and the MRI imaging group in University of Westminster, wonderful data resource from UK Biobank and generous support from Diabetes UK."
Dr Bowman said: "I am delighted to have received this award from Diabetes UK and feel hugely privileged to be part of such a wonderful research team in Exeter."
These two awards follow on from Professor Maggie Shepherd who presented the prestigious Arnold Bloom Lecture on Thursday 7th March – the first Nurse to do so. The DUKPC is an annual conference that this year took place in Liverpool with a number of University of Exeter academics taking part over the three days it took place. It seeks to gather specialist in diabetes to discuss the latest findings in world leading research in the discipline.
This has been a successful week for the Medical School who received these three awards at one conference alone. These come on top of those received in the same week by Timothy McDonald, Katie Lunnon and Willie Hamilton.
The University of Exeter Medical School's world-leading diabetes research and outstanding postgraduate and professional education are underpinned by our expertise in genomics and cutting-edge innovation in technology. The University's advances span from discovering biological causes and mechanisms, to improving diagnosis and treatment worldwide, to prevention and supporting people to live healthier lifestyles.
In type 1, type 2 and monogenic diabetes, our research takes a precision medicine approach, and is embedded in clinical practice. This means our discoveries are swiftly implemented to benefit people with diabetes.
Follow #ExeterDiabetes on Twitter for the latest updates.
Date: 12 March 2019