Articles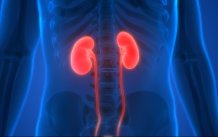 Diabetic Kidney Disease is the most common form of chronic kidney disease.
New drive to tackle deadly global disease
The University of Exeter is part of a pan-European partnership worth almost 30 million Euros to improve the prevention and management of Diabetic Kidney Disease.
Diabetic Kidney Disease (DKD) is the most common form of chronic kidney disease, which at present affects more than 10% of the world population. Currently there are no means to prevent or cure DKD, meaning millions of people die each year worldwide.
Now, the University of Exeter is part of the new Biomarker Enterprise to Attack Diabetic Kidney Disease (BEAt-DKD), a unique public-private partnership including experts from 21 academic institutions, six pharmaceutical companies, one biotech company and the Juvenile Diabetes Research Foundation (JDRF).
The partnership is funded by the Innovative Medicines Initiative (IMI), member companies from the European Federation of Pharmaceutical Industries and Associations (EFPIA), JDRF and the state of Switzerland. It has announced the launch of a five-year project with a total budget of 28.9 Million Euro which will aim to improve prevention and management of Diabetic Kidney Disease.
The partnership aims to provide a holistic systems medicine view of how the disease develops and the characteristics of DKD, with the goal of identifying stages of development and ways it could be treated or prevented.
Professor Angela Shore, Vice Dean (Research) at the University of Exeter Medical School, is part of the partnership. She said: "We are excited to have gathered so many brilliant and truly dedicated investigators, materials and innovative techniques in this unprecedented joint effort to make a real difference to our ability to prevent and treat Diabetic Kidney Disease."
This project has received funding from the Innovative Medicines Initiative 2 Joint Undertaking under grant agreement No 115974. This Joint Undertaking receives support from the European Union's Horizon 2020 research and innovation programme and EFPIA. BEAt-DKD participants are Lunds universitet, University of Helsinki, Academisch Ziekenhuis Groningen (University Medical Center Groningen), University of Oxford, University of Eastern Finland, University of Dundee, University of Exeter, Istituto di Ricerche Farmacologiche Mario Negri, Turun Yliopisto (University of Turku), Universitätsklinikum Freiburg, University of Bristol, University of Leeds, University of Hull, CHU Hopitaux de Bordeaux, University Clinic Erlangen, Medizinische Universität Innsbruck, Klinikum der Universität Regensburg, Medizinische Universität Wien, Università degli Studi di Bari Aldo Moro, Lipotype, University of Michigan, Swiss Institute of Bioinformatics, JDRF International, AbbVie, Sanofi-Aventis, Astellas, Eli Lilly, Bayer Pharma, and Novo Nordisk.
Date: 3 February 2017