Articles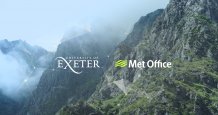 Joint Centre for Excellence in Environmental Intelligence.
Exeter partnership to pioneer use of data science and AI to solve global environmental challenges
A new initiative designed to find solutions to some of the world's most pressing environmental challenges has been announced.
The University of Exeter and the Met Office have announced an ambitious plan to create a Joint Centre for Excellence in Environmental Intelligence.
Based in Exeter, the Joint Centre will bring together world-leading researchers from the University of Exeter and the Met Office, to pioneer the development of environmental intelligence research. The initial areas of focus will be climate change, clean air, health and extreme weather events.
What are the aims of the partnership?
The ground-breaking new Centre will utilise data science and artificial intelligence to transform our understanding of the natural environment and develop solutions to real-world environmental challenges.
Bringing together expertise from both organisations, the Joint Centre will:
Provide a hub for research and training to support a new global community in Environmental Intelligence and promote the UK as a global trailblazer in this new field.
Facilitate collaboration between academia, business, governments and other stakeholders to develop solutions that are fit for purpose and evidence based.
We are exploring collaboration with The Alan Turing Institute, the UK's national centre for Data Science and AI, to provide leadership at the interface of environmental science and AI, together with the infrastructure to support development of a UK national capability.
Future collaboration
The ultimate vision is that the Joint Centre will attract the very best researchers, partners and sponsors who will work together to pioneer the use of Environmental Intelligence to enhance society's resilience to environmental and climatic change and to build a more sustainable future.
The Joint Centre welcomes the opportunity to engage with a broad range of organisations and will look for opportunities to expand the expertise of the partnership.
Professor Janice Kay, Provost of the University of Exeter, said: "Building on our existing strong partnership with the Met Office and unique expertise at both institutions, the Joint Centre for Excellence in Environmental intelligence will provide a step-change in our understanding of the complex interactions between the environment, climate, natural ecosystems, societies, economies and human health."
Professor Stephen Belcher, Chief Scientist at the Met Office, added: "We live in uncertain but exciting times. Never before has the environment been so threatened, but never before have we had so much digital environmental information or the tools to interrogate it. The joint centre will put Exeter and the UK at the heart of a new revolution of harnessing environmental intelligence for the benefit of the world's environment and humanity."
Sir Adrian Smith, Institute Director and Chief Executive of The Alan Turing Institute, said: "By bringing together cutting-edge tools - such as machine learning and AI – with unprecedented availability of environmental data, this exciting new partnership is perfectly placed to develop innovative solutions to the multiple environmental challenges facing humanity. At Turing we are proud to champion this pioneering initiative in Environmental Intelligence while encouraging even further collaboration from across the breadth of the UK's data science and AI sector."
Date: 15 July 2020