Articles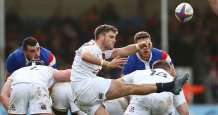 Sam Maunder representing England U20s
6 UoE students line up for Exeter Chiefs in the Premiership 7s
6 current University of Exeter students will feature for Exeter Chiefs in the Premiership Rugby 7s which includes all 12 Premiership sides and is the first opportunity for clubs to test themselves ahead of the regular season.
This first action of Premiership Rugby returns to Northampton's Franklin Gardens on Friday 13th and Saturday 14th September. Exeter Chiefs line up in pool D for the initial rounds alongside Gloucester Rugby and London Irish, with their opening fixture against London Irish on Friday 13th September at 7pm.
Representing the University of Exeter Rugby Performance Programme and named in the side are:
Sam Maunder (BSc Geography)
Luke Mehson (BA Geography)
Will Yarnell (BA History)
Charlie Fethney (BSc Sport and Exercise Medical Sciences)
Arthur Relton (BSc Exercise and Sport Sciences)
Olly White (BSc Mathematics and Physics)
Jordan Bond (BA Management with Marketing)
Reflecting on a strong presence of University students in the Exeter Chiefs line up, University of Exeter Director of Rugby Keith Fleming commented "Premiership 7s is always a really good opportunity for some of our University boys to get experience with Exeter Chiefs and over the past few years we have had a good number of current students represented in the side. This once again highlights the success of the partnership between Exeter Chiefs and our University programme which continues to produce a number of Premiership professional rugby players".
The University of Exeter Men's Rugby Club have been back in pre-season training since Monday 29th July in preparation for the start of the BUCS Super Rugby season. Exeter are the reigning BUCS Super Rugby League winners for the past 2 years and will be looking to complete a hatrick of titles in the 2019-2020 season. The Men's 1st team start their season against University of Bath Men's 1st on Wednesday 25th September in the opening week of BUCS Super Rugby fixtures.
Date: 11 September 2019