Articles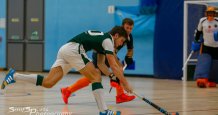 Sports Scholar James Carson in action
Indoor Hockey success for University of Exeter Men's Hockey
The University's Men's Hockey Club have enjoyed a successful indoor season, culminating in promotion into National Division 1.
University of Exeter entered the Indoor Hockey league this season and started with the West Hockey tournament on 15th/16th December. Leading goal scorer, Sports Scholar and Welsh international James Carson finished the weekend with 12 which contributed to Exeter taking the Hockey West UK Senior Men's Indoor Championship. This qualified the squad for the National League system in January 2019.
In the first round of the National League qualifiers Exeter continued their run of good form and finished top of the Division 2 South pool at Canterbury Hockey Club on the weekend of 5th/6th January, playing against the likes of Oxted, West Herts, Southgate, Havant, Cambridge City. Following a thrilling last game against Cambridge City which finished 9-8 in Exeter's favour, Exeter cemented the top spot on the table and secured qualification for the Division 2 finals.
The Men's Super 6s Division 2 finals weekend was on the 19th/20th January at University of the West of England where University of Exeter met Bedford, Doncaster, Oxted, Repton and West Herts. Exeter finished 2nd in the table to Repton with an 11-3 win in their final game ensuring they gained promotion into Division 1 next season. Overall Exeter progressed through four rounds of competition over December and January, losing only once in 16 games against some of the top teams from all over the country.
Indoor Team Captain and Sports Scholar Sam Hooper (3rd year BSc Mathematics with Finance), commented "It's great to see the team's hard work rewarded with such a successful campaign. We look forward to competing against some of the country's top teams indoor next year and we hope to carry this good form into the rest of our outdoor season".
As a result University of Exeter will start in Division 1 in the 2019-2020 season with the opportunity to qualify for the Jaffa Super 6s Championships if they are able to finish in the top four of that league. The finals are held at the Copper Box Arena in London's Olympic Park at the end of January each year and are the pinnacle of Indoor Hockey in the UK.
In outdoor competition the team compete as one of the top ten teams in the country in the England Hockey Premier Division and are the only University team in this top league. Exeter is frequently ranked as the number one British University for hockey in the BUCS (British Universities and Colleges Sport) rankings. Hockey is one of the University's performance sports and as such all performance athletes receive access to top quality facilities, specialist coaching and a comprehensive support services package.
Date: 23 January 2019