Articles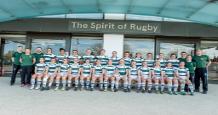 Performance analysis placement student Tom Elliott with the women's rugby 1st team at Twickenham for the BUCS Championship final
What makes us #Bleed Green?-Inside the University of Exeter Sport performance environment
Each year the University of Exeter Performance Programme welcomes a number of sports science placement students who support our performance teams with S&C and performance analysis. We caught up with some of this year's students as they reflect on their placement experience.
What have you learned during your placement with the performance sport team?
Katie Topley (S&C): "As well as learning about the theory such as programming and periodisation I have also learned a lot about the practical aspect of S&C and how to become a good coach. I have developed my coaching technique and learned how to work with and gain respect from athletes of various ages. Throughout the year I have been given feedback on my coaching and programming which has allowed me to work on my weaknesses and become a better coach".
Chris Bradley (performance analysis): "Throughout the duration of my performance analysis placement I have learnt how to efficiently and effectively perform sports coding and create pre and post-game individual and team analysis video packages. I have also learnt how to use an array of high-level analysis equipment and software".
Ben Edis (S&C): "During my placement within the high-performance set up at the University I have gained inside knowledge on the application of a multitude of advanced training modalities across different high-performance teams. I have developed soft skills, communicating with athletes from an extended range of sports enhancing my coaching ability and skill set. Finally, I've been able to apply this skill set in the delivery of my own programmes to my own squads EULC, EUAFC and EULFC".
Tom Elliott (performance analysis): "From the very beginning, you are given a number of responsibilities and roles which can range from assisting or leading prep and delivery of team meetings, providing live analysis and coding at home and away games, reviewing numerous games post-match and having to create stats packages for the coaches. In such a high-performance environment things are constantly changing in order to achieve the best, meaning no two days are the same".
What have you enjoyed most when completing the placement?
Katie Topley (S&C): "I enjoyed having the responsibility of running my own S&C sessions which has involved designing a programme and then leading it to a group of athletes over a number of weeks. I also got the opportunity to test the athletes before and after my programme which was very rewarding to see their improvements that resulted from my sessions".
Chris Bradley (performance analysis): "I have enjoyed working collaboratively with a very high standard of team and highly qualified and well-regarded members of the coaching team. I also enjoyed helping players develop and reach their potential (achieving BUCs Gold 18/19). It was also great to have the opportunity and experience to support the lead Performance Analyst with Men's Rugby".
Ben Edis (S&C): "I have enjoyed working alongside a diverse team of coaches, travelling away with teams, attending game days and being within the contrasting team environments between clubs. I enjoyed working with a vast array of athletes across different sports, through their successes across the season".
Tom Elliott (performance analysis): "The best parts about being involved in such placement are seeing things you've spoke about and identified with the coaching team and players coming to fruition, leaving you with a real sense of pride and fulfilment. Also, the placement has given me the chance to work at venues such as Sandy Park and Twickenham, which are incredible experiences and opportunities themselves".
Would you recommend this placement to another University of Exeter student?
Katie Topley (S&C): "I would highly recommend this placement especially if you are considering S&C coaching after your degree. Not only is this placement very enjoyable but you will gain valuable experience that will help you in the future as the S&C industry is very competitive. With exceptional mentoring and guidance, it will allow you to develop your coaching skills and increase your confidence as an S&C coach.
Chris Bradley (performance analysis): "I would recommend this placement to anyone who finds the subject of individual and team performance analysis interesting and would like the opportunity to gain further insights in how top-level clubs operate. This placement provides a great foundation of knowledge in performance analysis and the opportunity to work with some of the best young athletes in the country".
Ben Edis (S&C): "I would recommend this placement to anyone wanting to experience strength and conditioning within a high-performance environment. The exposure to different coaches and their experiences, reading materials, and knowledge provide a solid base to develop as a coach in an incredible working environment".
Tom Elliott (performance analysis): "I'd strongly recommend anyone considering a career in sport, whether that be coaching, analysis or player development get involved in a placement such as this. The skills you develop in your field of expertise as well as outside of that are second to none. The support and practical experience I gained throughout the year has placed me in the best possible position moving forward to continue to work as a performance analyst and within high-performance sport post-university".
If you are studying at University of Exeter next academic year and interested in finding out more about the placement opportunities we have on offer please email sportsperformance@exeter.ac.uk
Date: 20 June 2019