Articles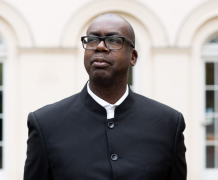 Campaigner Patrick Vernon. Photo: Alex Rumford
100 Great Black Britons author to kick off Black History Month at University of Exeter Business School
A talk by Patrick Vernon OBE, author of the landmark list 100 Great Black Britons, a celebration of high-achieving Black British individuals over history, will get Black History Month underway at the University of Exeter Business School this Friday.
His talk 'The Making of 100 Great Black Britons', which is open to the general public, will recall the story behind the original 2003 list – a response to a national poll of "greatest Britons" that contained no Black people – and explain why the time was right in 2019 to relaunch his campaign with a new list and accompanying book.
He will also be launching a writing competition for Exeter students to pen their own profiles of great Black Britons.
The new list, compiled by a panel after members of the public were invited to submit nominations, features the likes of transgender activist Munroe Bergdorf, the artist and film director Steve McQueen and the Booker prize-winning author Bernardine Evaristo.
Asked by the Guardian whether things had improved for black Britons since the first list was last compiled, Vernon said it depends whether you are talking about individual achievements by the likes of Stormzy and Lewis Hamilton, or using "other metrics".
He said: "If you were to look at other metrics – inequalities in health, education, stop and search, things have not improved dramatically in many ways. We're still fighting for our rights in this country. And that's why we still have Black History Month and these publications."
Vernon is a social commentator, community activist and campaigner who has worked tirelessly on issues such as tackling mental health inequalities among African and Caribbean communities.
He was behind a campaign that successfully petitioned the government to create an annual Windrush Day on 22 June, with the aim of recognising and honouring the contribution of the Windrush Generation, "ensuring that we all celebrate the diversity of Britain's history".
He is a published author, film-maker and former Hackney councillor who featured on the cover of British Vogue in August 2020 as one of the 20 activists "ready to change the world".
His talk is part of an exciting programme of events for Black History Month at the University of Exeter Business School.
Talks, workshops and Q&As will look at topics such as understanding and avoiding micro-aggressive behaviours, making your way as a Black entrepreneur, how businesses can best support People of Colour within the workplace and the geographies of slavery tourism.
See here to view the full range of events and booking options.
Date: 1 October 2020