Articles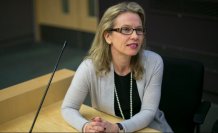 Professor Ruth Sealy
End of the annual report as we know it? Researchers set out future of corporate reporting
How can companies make their annual reports meet the information needs of investors and other stakeholders more effectively?
This is one of the questions addressed in The Future of Corporate Reporting, a discussion paper published by the Financial Reporting Council, with an independent literature review (available here) by academics from the University of Exeter Business School.
The study considers a common criticism that annual reports can be too long, inaccessible and confused about their audience and purpose, and calls for a new set of common principles for all corporate reporting, based on accessibility, connectivity, consistency and transparency.
The recommendations reflect on how demands for accountability in corporate reporting have evolved in recent times: now, instead of just documenting financial performance and position, reports are more expected to consider a company's wider impact on society and the environment.
Other proposals included making annual reports into a network of interconnected reports, expanding the use of technology to improve accessibility, as well as making the content more "objective driven" to accommodate the interests of a wide group of stakeholders.
Mark Babington, Executive Director of Regulatory Standards at the FRC, said: "As the UK's corporate reporting framework has evolved, annual reports have become a vehicle of convenience for ever-more information.
"However, this has undermined their purpose and usability. The future of corporate reporting discussion paper proposes a more agile approach that is responsive to the needs of users of accounts."
Professor Ruth Sealy, from the University of Exeter Business School, was part of a team of researchers that produced the accompanying literature review. She said: "Our review noted the increasing importance of non-financial and narrative reporting and highlighted the challenges in designing comparable standards, reliability and credibility of this type of information."
Co-author Professor Grzegorz Trojanowski, also from the University of Exeter Business School, added: "Findings from our review do not necessarily point to more disclosure, but rather reporting that better fits the users' needs.
"This may require standard setters and regulators to start considering not only the content of reporting (what firms should report) but also the format (how they should report it), and the reporting channels."
The focus of corporate reporting and surrounding literature has mostly been on shareholders rather than examining the needs of all stakeholder groups, noted Professor Giovanna Michelon from the University of Bristol.
She added: "This is particularly the case for non-financial information such as CSR or sustainability information, where the literature has documented extensive use of impression management and gaps in performance portrayal."
Date: 12 October 2020