Articles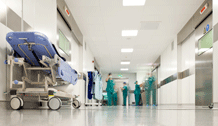 Most participants in the survey believed their new status was unlikely to last
Healthcare workers celebrated during lockdown reject 'sudden hero' status
Hospital workers, celebrated as heroes during the COVID-19 pandemic, have rejected their new-found status, calling public applause and other displays of support a "trick" and accusing the public of lacking sincerity, according to a new study.
Researchers including from the University of Exeter Business School conducted a survey of 164 non-physician healthcare workers in France – including nurses, hospital attendants and technicians – to examine how they responded to rounds of applause, murals and other shows of public support during lockdown.
Participants were near unanimous in rejecting their "sudden hero" status, saying it wouldn't last.
Many believed it was unlikely to change how their jobs were resourced, and said the media would soon forget about them and that society would rush to get "back to normal" as soon as possible.
Others said the public appreciation of their efforts was merely a reflection of people's fear of death, and that once the danger had subsided health care workers would be forgotten.
One participant in the study, a social worker, is quoted as saying: "The government is thinking of us because it has no choice but to throw flowers at us so that we are ready to go to work without flinching. But in a few months, everything will be forgotten: no applause, no salary increase, no revaluation of professions."
Participants in the study pointed out that saving lives was what they did all year round, with one nurse dismissing the notion of being a hero as "manipulation", saying: "It is to make us work without complaining. It's a trick, and we all got trapped."
Jamie Ladge, a Distinguished Research Professor at the University of Exeter Business School and Associate Professor of Management and Organizational Development at Northeastern University, co-authored the study alongside Professor Sophie Hennekam and Professor Yuliya Shymko from Audencia Business School in France.
Professor Ladge said: "Some participants seemed to feel used, rather than appreciated, thus interpreting their hero status as lacking sincerity and as an attempt by the public to feel better about themselves, rather than expressing genuine caring about health care workers."
The sudden hero status experienced during the pandemic contrasted with analysis suggesting that most hospital workers are used to feeling "invisible" in their jobs.
The vast majority of participants said they felt marginalised, stigmatised and mentioned a lack of respect or recognition.
One nurse said they were seen as a "failed doctor", a technician said that "no one knows who we are or what we do", and one hospital attendant said: "We're seen as professionals that do work you do not want to do."
Two hospitals took part in the survey – one in Paris, a city strongly affected by COVID-19, and another in Rennes, where the virus has had less of an impact.
Data was collected between 26 March and 17 April, a time when a national lockdown had been imposed and hospitals were besieged with record numbers of patients.
Just over half (51%) of participants were nurses, with 32% hospital attendants and 7% technicians.
Demographic data wasn't collected, but judging from publicly available figures the researchers estimate that the majority of respondents were women of an average age of 40.
From Zero to Hero: An exploratory study examining sudden hero status among non-physician health care workers during the COVID-19 pandemic, is published in the Journal of Applied Psychology.
Date: 21 October 2020