News archive 2020
We caught up with our Sports Scholars and Performance Bursars on their 2019-2020 academic year so far...
---
The University of Exeter Men's Indoor Cricket 1st team pulled off a fantastic performance on BUCS finals day to take home the BUCS Gold and Champions title for 2020.
---
UoE Performance Netballers Emily Becconsall (BSc Geography) and Kaitlin Lawrence (BA History) have both been selected for the English Universities squad who are working towards playing a series of matches against U21 Home Nations squads and the British Colleges side.
---
2019/20 Colours and Awards has arrived!
---
With the BUCS season coming to a premature end, we caught up with our AU clubs to see what they have been getting up to during lockdown.
---
Emily Becconsall (current EUNC 2nd team vice-captain and Exeter Netball Regional 1 squad member) and Rachael Fee (current UoE TASS athlete and Exeter Netball Premier 3 squad member), have won coaches player and players player of the season for Team Bath U19 and U21 National Performance League (NPL) squads at the virtual end of season award ceremonies.
---
With the academic year having come to a close and at a time where we would normally be looking forward to graduation, it's been a great opportunity to reflect on some of the fantastic achievements from our graduating Sports Scholars and Sports Performance Bursars throughout their time at Exeter.
---
The fully anticipated AU Dinner Award winners have been announced!
---
Press Pause with Exeter Sport
---
Three current club members and one recent graduate selected in Exeter Chiefs match day 23 vs. Saracens.
---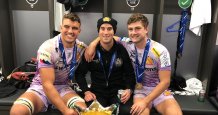 Three University of Exeter alumni played a part in the Exeter Chiefs' Champions Cup victory on Saturday.
---
EURFC are delighted to announce that recent graduate and Georgian international Lasha Jaiani will win his third cap for his country against England on the hallowed turf of Twickenham on Saturday, in both sides opening fixture in the inaugural Autumn Nations Cup.
---
Having been awarded a place in the Tyrells Premiership 15s league, Exeter Chiefs women, the 1st ever club's affiliated women's team join the Premiership fresh for the 2020-2021 season.
---